At the last sprint in Frankfurt we decided to make the brand development for the Neos project a priority. While the work is underway, we currently do not know when this process will be finished.
To make sure that Neos has a clear identity during this transition phase, we have created the Neos Transition Brand Guide. The goal is to have a minimum set of brand rules that define a consistent and recognizable interim brand for Neos. The Guide contains guidelines about the logo text, fonts and colors. It also contain a section of not allowed usages.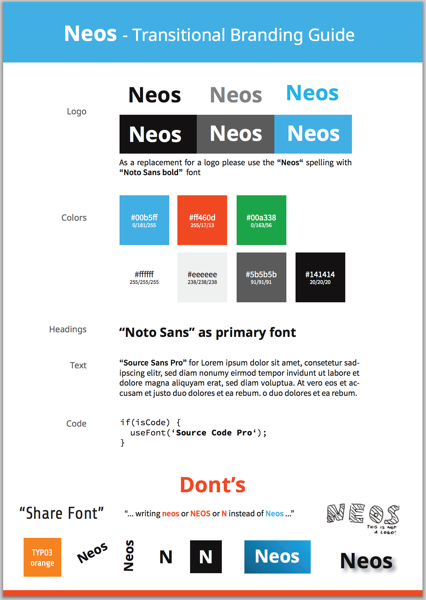 While we recognize that this one page guide may not answer all branding related questions, we do hope that it gives sufficient guidance for everyone in need of a visual representation of Neos during the transition phase.
We will be transitioning our website, internal systems and social media accounts to the interim branding in the next couple of days. 

If you have any questions about the interim branding, please contact us at hello (at) neos.io or in our Slack channel.