Your content – correctly structured
Flexible content modeling provided by the Neos Content Repository

What are Content Elements?
Content elements are the building blocks of your website. You can start by adjusting predefined ones, like Page, Text or Image – or you can create your own fitting your business domain.
Not only the pages are organized in a tree structure, also the content on the page is structured in this way. This allows to build elements in a very flexible manner, creating custom multi-column elements is a matter of seconds.

Guide your editors to create great content
By using custom content elements, the editor does not need to think about styling, formatting and presentation anymore, but can concentrate fully on content. 
Neos completely removes the barrier between editor and CMS: As an example, in order to present a product, the editor does not need to create text, images or bullet-list elements in a specific way. He just adds a product element directly, and starts filling the blanks.
---
1. Design
Freely design the content elements that fit to your project. Think about articles, products, travel-journeys or contacts - the sky is the limit.
2. Model, Extend, Adjust
Model your content elements just by writing some configuration. And don't worry - extending and adjusting the elements is always possible. 
3. Present
Render the content using powerful templating techniques like FlowQuery, Eel and Fluid, custom for the different output channels which you need.
Building Blocks for your projects
4. Use it where it fits
With content constraints, you can accurately define which content elements are available in which part of your page. This helps editors to focus and build good websites.
5. Share and Reuse
Content element definitions can be shared among your projects and with the community. Community elements can be integrated easily.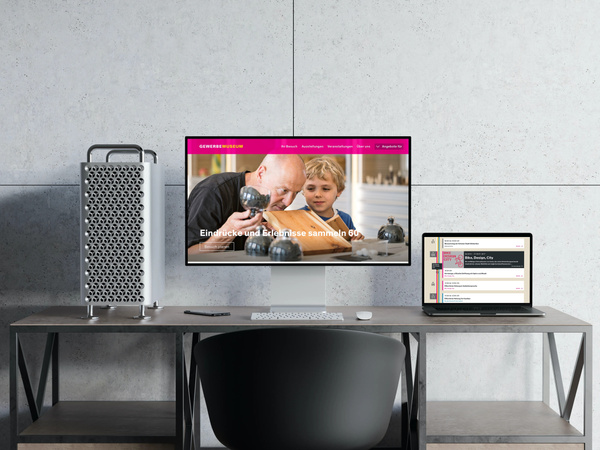 Gewerbemuseum Winterthur
Here you can see a delicate example of how content can be modelled with the Neos Content Repository.
For the Gewerbemuseum Winterthur/Switzerland, an full-fledged event calendar has been created using a NodeStructure alone - no custom database scheme, no additional backend tweaks - only pure Neos.