Kassenärztliche Vereinigung Hamburg
The existing KVH website was not up to date either in terms of usability and layout nor regarding technical aspects and was therefore in need of a comprehensive relaunch.
As a public corporation, the KVH is responsible for ensuring the availability of medical and psychotherapeutic care within the city of Hamburg. In addition, the KVH organizes the medical emergency service in Hamburg and ensures that a registered physician is available at all times in case of need.
The project includes the conceptual development and implementation of a comprehensive website relaunch. The aim was to create a modern homepage with a multitude of different services for both the KVH itself and the user. Usability was to be improved and the graphic presentation was to be given a serious design with modern menu navigation. An editorial review workflow was integrated to speed up and streamline the KVH's internal processes.
(Technical) Project Highlights
short-term implementation of an online store for protective goods, such as masks, gloves or gowns, to assist in combating the pandemic

Setting up an editorial review workflow that reminds editors to review documents after a certain time. The Sitegeist.Bitzer and Sitegeist.Bitzer.Review packages were developed for this purpose

Physicians, imported from another system, can be easily found using filter and sorting options such as distance, opening hours, specialization, accessibility features, and much more

The sheer amount of content for different domain specific use cases made it necessary to provide a means to filter it by meaningful parameters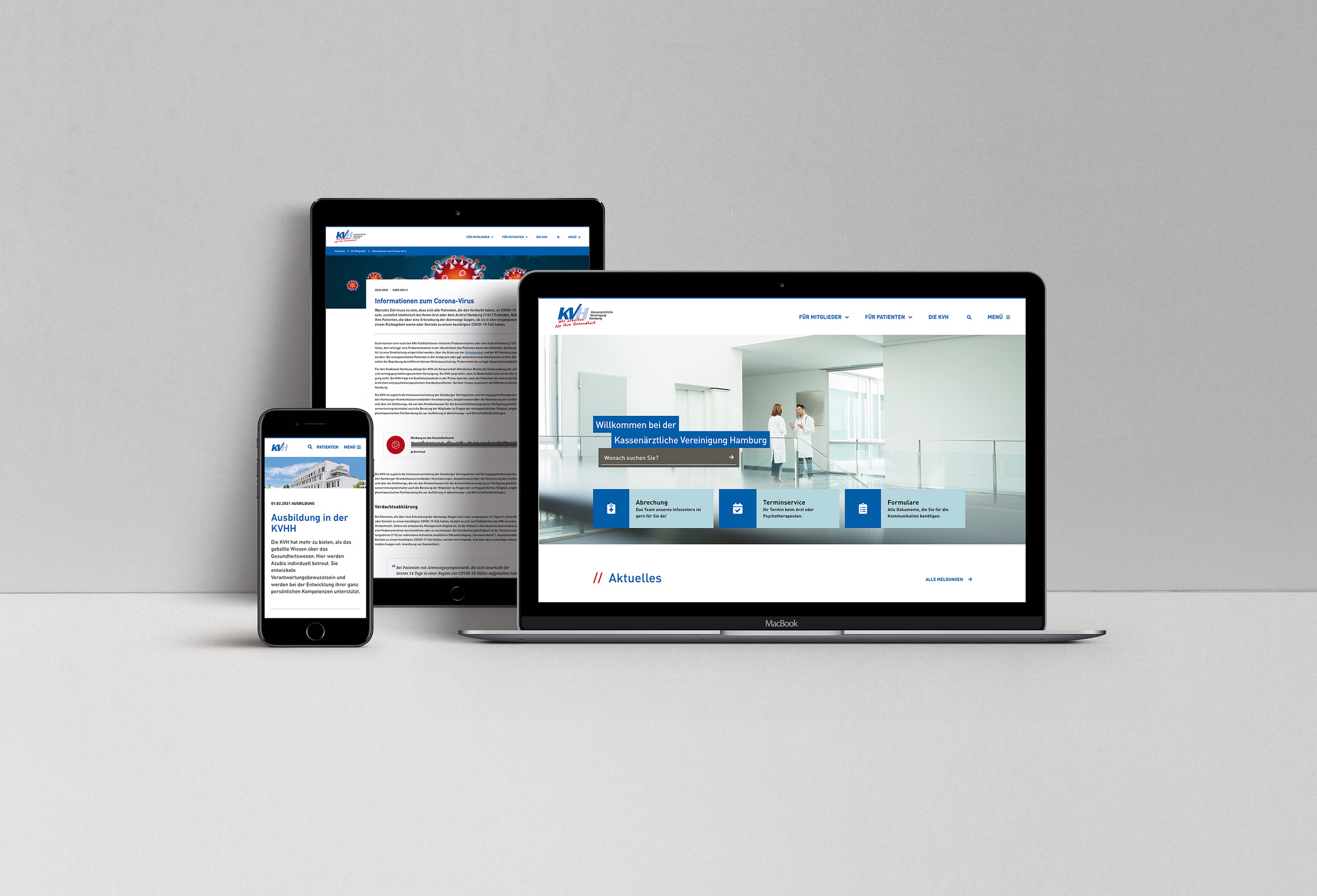 How Neos made the Difference
A clear content structure, performance and an easy way for the client to keep the content up to date were of particular relevance for this project. The use of Neos as a content management system makes it much easier for the client's editorial team to maintain its extensive website and keep it up to date.
---
"With NEOS, we were always able to precisely customize the website to match our individual requirements. In addition, the simple usability facilitates the work for our departments, which can work with the CMS without much prior knowledge"
since the KVH is required to create reports on usage of the online store, it was event sourced so that no relevant information is lost

there was no ERP system in place to handle orders, invetory etc, so a basic ERP was implemented in Neos using the above event sourcing capabilities

the old website's content was present in unstructured format and was imported to Neos' content repository for editorial review

a considerable amount of content is provided in PDF format, so these files were indexed as Neos nodes to provide seamless integration into the document finder

the editorial responsibility is distributed among several roles with access to different parts of the document tree
different roles for more than 40 editors
pieces of equipment delivered
The Internet full-service agency sitegeist is experienced in complex projects since 1996. With 70 employees they support Open Source actively as an Neos Longtime Supporter Gold, inventor of the "MEET NEOS-Conference-Series" and 3 active Neos Core-Team-Members. Always in the top of the ranking "Germany's best Multimedia-Internet-Employer", currently a 4,61 Kununu score which indicates highly qualified and satisfied employees.