How Neos made the difference
HEINEKEN Switzerland wanted to provide various target groups (media representatives, employees, shareholders and interested parties) with appropriate and comprehensive information on the website. The new multilingual corporate website needs to radiate simplicity and clarity, display news and Twitter posts, as well as the current stock market price, and thus bring people closer to the diverse world of HEINEKEN Switzerland.
ongoing decided to employ the easy-to-use Neos CMS. This offers the ideal platform to manage multilingual websites and guarantees the integration of various plug-ins (Exchange API, Twitter, search function and "AgeGate", which checks the age of the users). This CMS also enables content to be edited and supplemented quickly and intuitively.
Due to the existing corporate design of HEINEKEN Switzerland, ongoing achieved a cost-effective implementation of the website layout. Website managers can position special teaser elements individually as well as in an ever-changing constellation - and of course images, videos and downloads can also be displayed. In addition to the "normal" news, Twitter posts are automatically displayed in the news feed, which saves repetitive work for editors.
Neos CMS offers editors the option to publish and deactivate content in a time-controlled manner and to preview changes as part of a closed user group's approval process.
---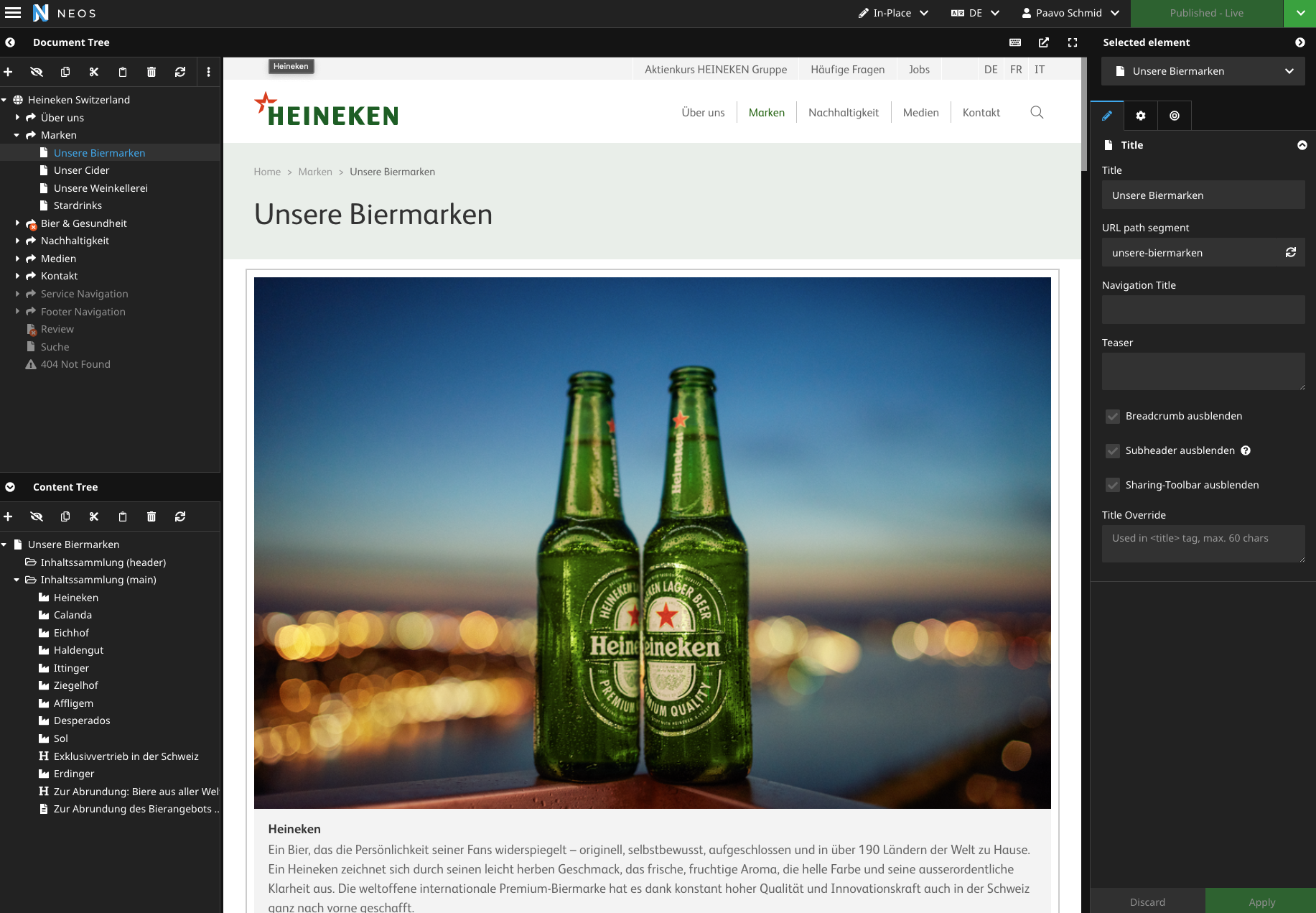 "Thanks to Neos CMS, we conserve valuable resources because our editors can make changes quickly and easily. We also appreciate the simple connection to third-party systems, which also minimises complexity"
ongoing supports companies and agencies in (almost) everything that happens online.
Not only is ongoing a Neos agency that implements complex content management solutions, it also supports national and international customers with e-commerce solutions, ERP connections or complex web applications.
ongoing GmbH was founded in 2006. Since then it has progressed to become an online agency with a high level of technical and project expertise and has succeeded in implementing solutions for reputable customers. All employees have a sound technical background and constantly keep themselves up to date.