On the 13th of October 18 community members got together in a virtual meeting to form the new Neos teams. The goal was to create three teams with at least six members each with the skills necessary to take on any piece of work. The meeting was prepared by the Transition Task Force, well moderated by Gina Steiner, and we quickly had an overview of the required skills: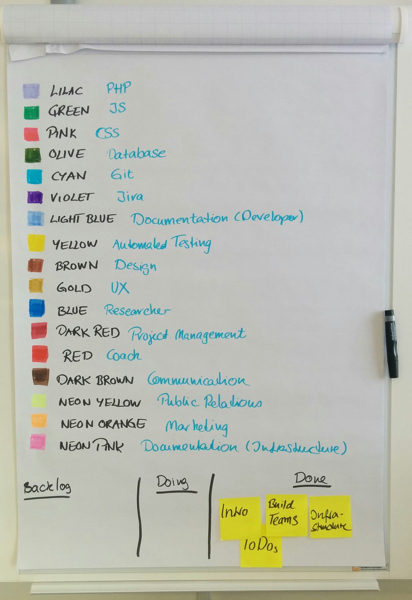 The next step was more difficult - to self-organize ourselves into the three teams while making sure that the skills got distributed evenly. After shuffling around some members to ensure that every team has the required skills and at least one non-German speaking team member, we reached the following conclusion:
The teams
The teams that formed are:
Team Minions: Ben van Kruistum, Daniel Lienert, Dmitri Pisarev, Florian Heinze, Karsten Dambekalns, Rens Admiraal, Robert Lemke

Synchronizer: Ben van Kruistum
Prioritizer: Karsten Dambekalns

Team Tiga: Andreas Förthner, Aske Ertmann, Bastian Waidelich, Markus Goldbeck, Sebastian Helzle, Tobias Gruber

Synchronizer: Tobias Gruber
Prioritizer: Aske Ertmann

Team Unicorn: Alexander Berl, Berit Hlubek, Christian Müller, Christopher Hlubek, Dominique Feyer, Sebastian Kurfürst

Synchronizer: Christian Müller
Prioritizer: Berit Hlubek
The teams have already started organizing their activities and progress can be viewed on Discourse.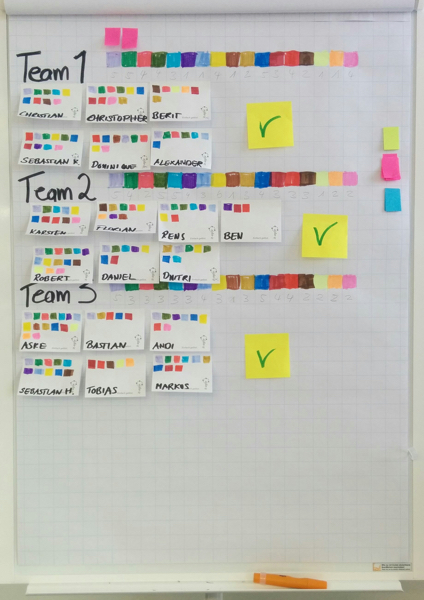 Synchronizers and Prioritizers
The Synchronizers and Prioritizers got together for their first meetings and published their minutes on Discourse. The focus of the Prioritizers is to define the guidelines for the projects the teams will work on. Work is also underway to make this transparent by creating Jira boards. The Synchronizers focussed on the initial feedback from the first team meetings, which processes worked and where additional skills could be added to the teams.
Guilds
In addition to the teams, who are responsible for working on projects and tasks, the first guilds have formed. Guilds are open to team and community members who want to take interest and want to work on a specific topic. The guilds are coordinated on Slack and can be identified by the "guild-" prefix.
Here's a (non-comprehensive) list of the Neos guilds:
Communication
DDD (Domain Driven Design)
Documentation
Marketing
Search
Website
Get involved!
The guilds are the ideal place to start discussing with team members about specific topics and to get involved in the Neos Project. You don't have to be a developer either - we also need people who know project management, communication, brand management, marketing and documentation.
If you want to dedicate your skills and time to the project, please get in touch with the Synchronizers at hello (at) neos.io. We would love to hear from you!