About 1500 people attended the DrupalCon 2019 in Amsterdam. With one contribution day included, 4 days of talks, exhibitions and a lot of community driven highlights.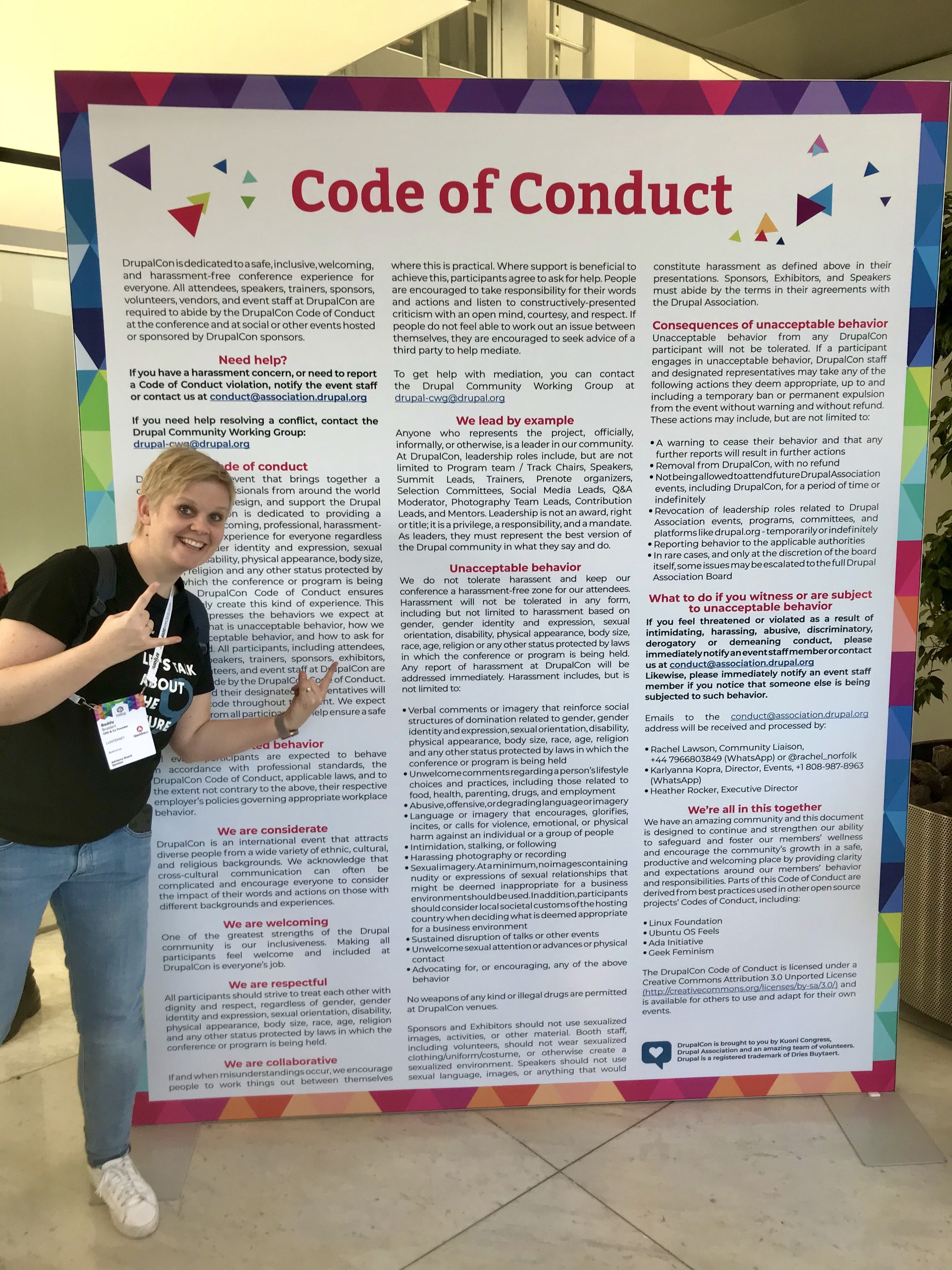 One thing is very clear from the beginning: Drupal has a very open and diverse community and you can see and feel it everywhere. They highly value their code of conduct and I met people who told me that they even do not work with Drupal anymore, but that they are still active in the community. Many contributions are not code related at all and focus more on managing and building the community. I could experience first-hand that they are also very welcoming to other communities and they asked me why I didn't apply for a session and introduce Neos CMS… Maybe next time.
Pitch me!
I had to answer a lot of Neos CMS questions. Some people even challenged me to pitch (Neos CMS) to get a first impression and a personal opinion on the pros and cons of Neos CMS and how it is compared to Drupal. Some of them already knew Neos CMS, most of them didn't. (side note: we have to change that)
Talks, BoF's and Contribution Tables
Of course there was a huge lineup (compared to NeosCon) with interesting talks, but talks are not everything a DrupalCon is about. A "Contribution Room" always was at least half full with people sitting together at tables (~15) working on various topics (core members, module maintainers and community enthusiasts), open to join for everybody.
So called BoF (Birds of a Feather) sessions were also part of the program. BoF sessions are a place to give community members room to present or talk about whatever they would like to share. You could compare the concept a bit with our Lightning talks, just on a bigger scale in several rooms.
Community first
A big part of the conference is the community itself. I would say it's even more important then the talks themselves. After three days of more or less planned schedule they have a fourth day just for contributing to Drupal and I would say, the fact that hundreds of people are staying to contribute is self explaining on how motivated the community is.

What are the big questions for them right now?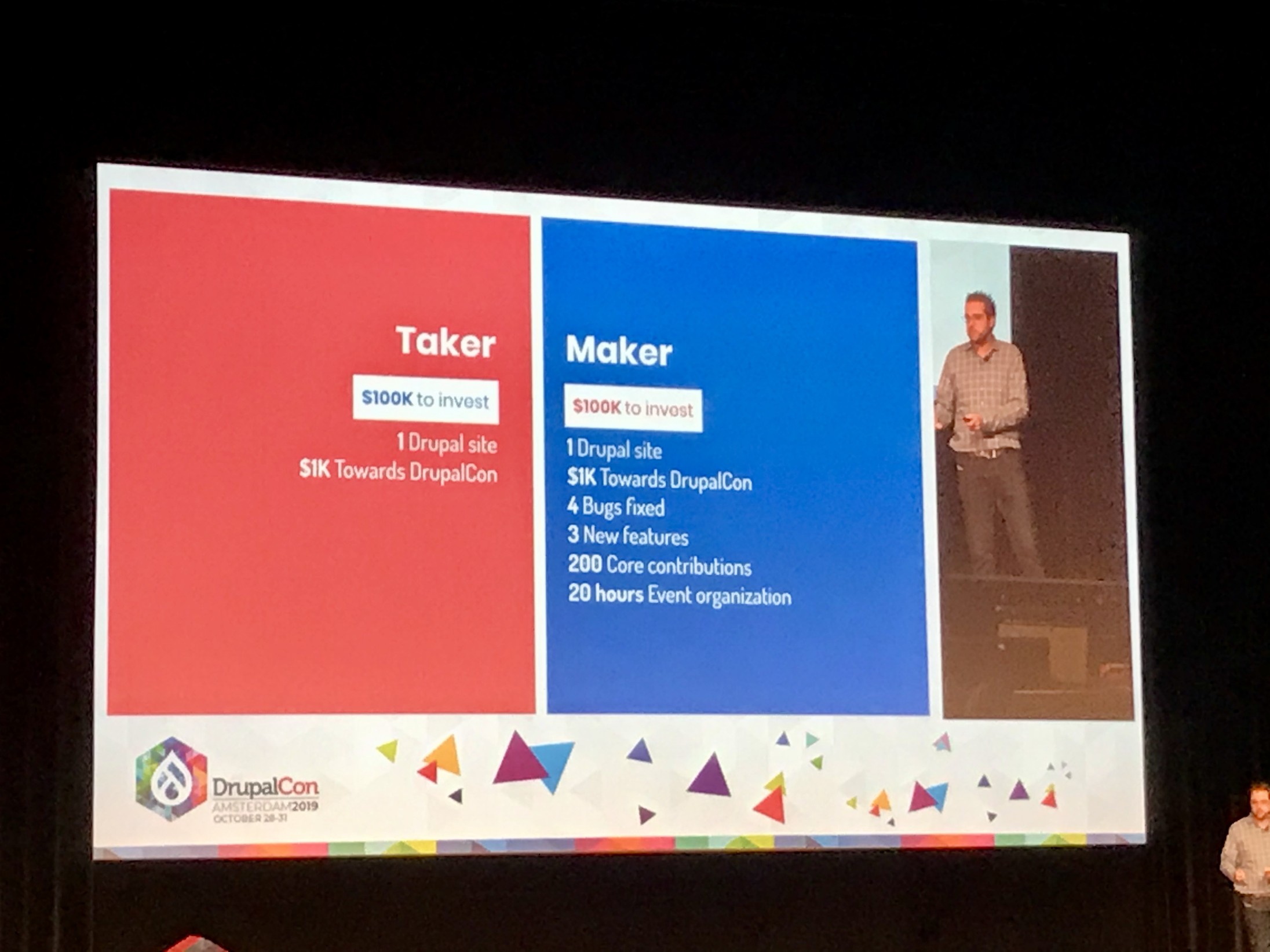 Every community has its own challenges and goals. Dries Buytaert, the creator of Drupal in the first place, gave a keynote to explain a bit what the community has accomplished and what new goals could be. He was talking about the open web, and that we all have responsibility and power to keep it that way. He was also addressing community efforts to make Takers to Makers and bring more people to actively contribute. He also tried to provide some guidance where to go next with Drupal 9.
API First
One topic I'd like to point out is to make Drupal an API first CMS. The importance of headless or decoupled approaches regardless of what frontend Stack (React or Vue) and Vendor (Next.js/Gatsby…) to use, was everywhere. Many talks and sessions focused on this topic and all of them were packed with people.
A topic that is also rising within the Neos CMS community. The Neos team addressed it at their sprint in Vienna this fall. I think we are on a very good path with the new Event Source Content Repository, recent community efforts to improve the GraphQL and Rest API support and implement static site generation into Neos CMS.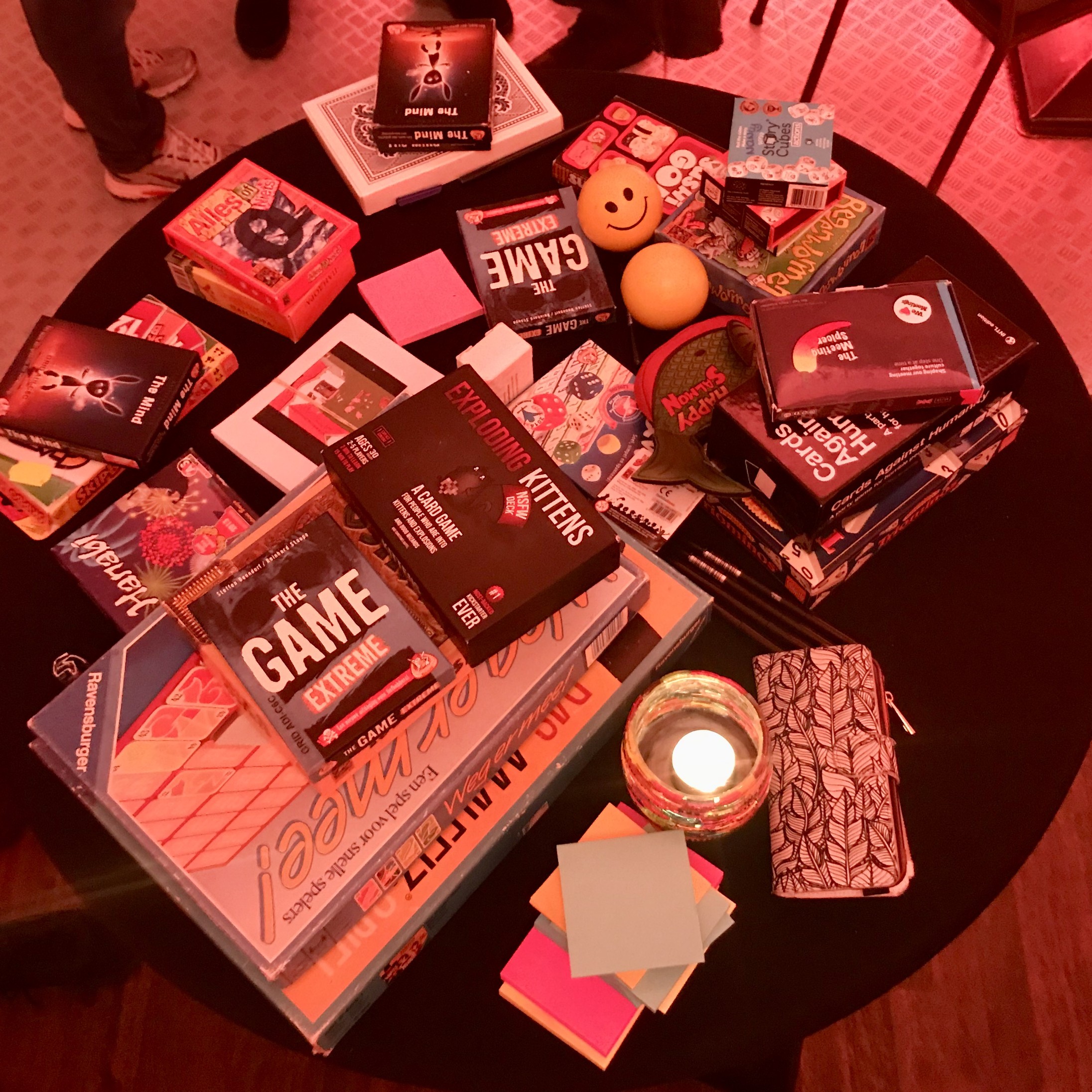 So many social events happening that you can't attend all of them. I'd like to point out three of them:
Pantheon DrupalCon Party
This social gathering was real fun. Beside the (usual) party, they also organised social games. I attended one of those games where basically two detectives had to find out what the rules of the game were through asking questions.
#1 rule: If you get questioned, you answer to the person to your right.
#2 rule: If your answer is wrong the person sitting to your right has to stand up in order to tell everybody to get up as well and pick a new random seat. 

As you can imagine that was quite fun and perfect for community building and breaking the ice. For me personally it was hilarious because I was kind of the prime target and was asked many Neos CMS questions to figure out what happened after my YES or NO answers.
IMHO playing a game is such a good idea to break the ice and open up space for interesting conversations. I would really like to see that at Neos events as well.
Trivia night
Trivia nights have a very high reputation and everybody loves them. It basically is an event where a random group of five people competes against all the other groups in the room in a trivia game. Of course there will be a winner and a lot of fun and community building is guaranteed.
The Splash award
The international Splash award is similar to our Neos Award. As one of the organisers of the Neos Award it is quite interesting to see how they set up such an event and how they gather juries and make decisions. I guess it's not a surprise that they have much more submissions than we have right now, but hey… we are getting more every year ;-). It was a well organised stand-alone event that I could really see in the future for Neos CMS as well… so keep submitting!
BTW: We are working on new submission guidelines for the Neos Award right now, so stay tuned!
I think DrupalCon is an inspiration not just for Neos CMS about how you can set up such a big event and how you keep the engagement high within the community. I sometimes ask myself how the Neos CMS community will be if it would be three times bigger than it is right now. I imagine a diverse group of people from all over the world, inspired by our team values and our code of conduct. I would love to see much more community driven efforts besides the Neos Team itself and most importantly, I would like to see you as part of this amazing community.
I'll see you at the next NeosCon in Dresden! If you wanna know more, ping me and lets talk "Community".
Best,
David