Designed for Editors
Creating, editing and changing content has never been so easy. Just type, insert pictures and publish. It's that easy!
Edit your content right where it is
Beautiful & intuitive Control Panel
Powerful roles & user management
Crafted for Developers
Neos is crafted by and for developers. No magic happening. You are in full control over what you do.
Custom content modeling
Planned extensibility
Easily integrate any 3rd party system
Built to last
Looking for an individual system that lasts for years, integrates with your other systems and can still be updated? You found it!
Trusted Open Source Foundation
Built to be integrated
Long time supported (LTS) versions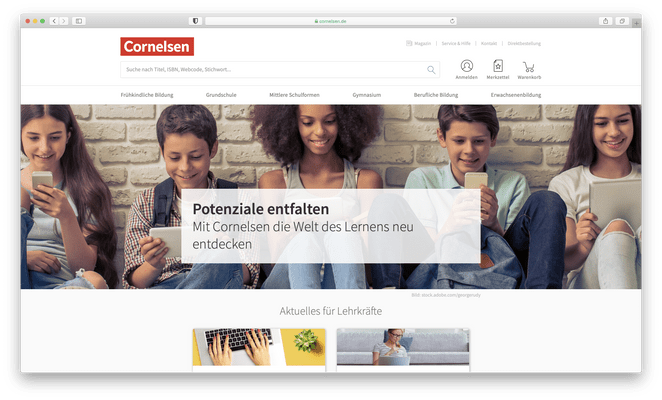 Cornelsen
Manage not only 5 different sites in your Neos instance - how about hundreds?
What people love most about working with Neos
True Inline WYSIWYG Editor
Edit your content right where it is - in your website! No preview buttons or technical skills needed.
Click and type - it's that easy
Predefined styles help you to focus on your content
Simply move content elements around to reorder them
True Multi-Site Support
Whether you want to provide content for multiple languages, countries or target groups, we got you covered! Managing 5 different sites isn't enough - how about hundreds?
Manage hundreds of different sites in one Neos instance
Handle all your different languages, countries and personalisation
Define fallback options
Planned extensibility
Requirements will change during the lifecycle of your project. This is why we put a lot of effort into making Neos as flexible as possible, while presenting a purpose-built, clean interface.
No hacking required to extend your Neos system
Over 640 free add-ons and counting
"

I have trained 8+ editors at Swisscom in how to use our new newsletter tool. One of the biggest assets is the good usability of Neos. Editors can build their own newsletters after a short training session and they are able to repeat it even if they have not used the tool for a couple of weeks.

"

Become a Longtime Supporter!
Want to support the Neos project? Here is everything you need to know.
Neos CMS - content's first choice
#SLACK - GOT QUESTIONS? WE HAVE ANSWERS!
We've got a #Slack channel where you can talk directly to strategists, developers and designers. Give us your contact information and we'll add you... without any commitments!