NEOS – The New Austria and Liberal Forum
NEOS – The New Austria and Liberal Forum is liberal political party in Austria. Yeah, same name. But the party and our CMS system do not have anything in common, except that the party is actually using the Neos CMS application platform.
In this project Code Q Web Factory has redeveloped the entire online presence of NEOS with 21 websites. Through the use of the Neos CMS it was very easy to create a platform for the administration of all websites and over 30 editors. This has led to a unification of the many detached systems and makes it much easier for editors to create content.
There is also a stronger focus on social media content, as most content is social media based. At various points in the system aggregated content is displayed dynamically from social media.
---

How Neos CMS made the difference
The customer chose Neos because of the complexity of the project and because the website is edited by a big group of editors. With Neos there was almost no effort in learning to create content on the website. Neos allowed the creation of a visually and emotionally appealing website that is still straight forward to manage in the backend.
Another key part is that the internal team can launch new campaigns and even features, while the stability of the whole system and future extensibility is still guaranteed. Neos gives also the security needed for a website very likely can be the target of hackers.
---
How Neos integrates with all Social Media Activity

Political websites today have a problem: they are built like blogs, but very few political organizations have an understanding of content marketing. The potential authors - political frontrunners - are motivated to blog at all only during election campaigns. The teams in the background can not compensate for this, since there are usually just enough resources for the day-to-day business and these then go into social media content.
The result: There is no regular filling of the website. To compensate, teams build social media walls into their websites. That then often seems loveless. Most daily content often has little to do with the visionary self-portrayal of the surrounding site. In any case, the content seems somehow irrelevant on most days. So one problem was exchanged for another. And this content lives in completely different worlds.
The solution: the NEOS Content Aggregator gets content from all available sources and displays it in a combined representation. From three self-developable levels, we build a consistent presentation of current events. And all that is freely configurable by the editors.
---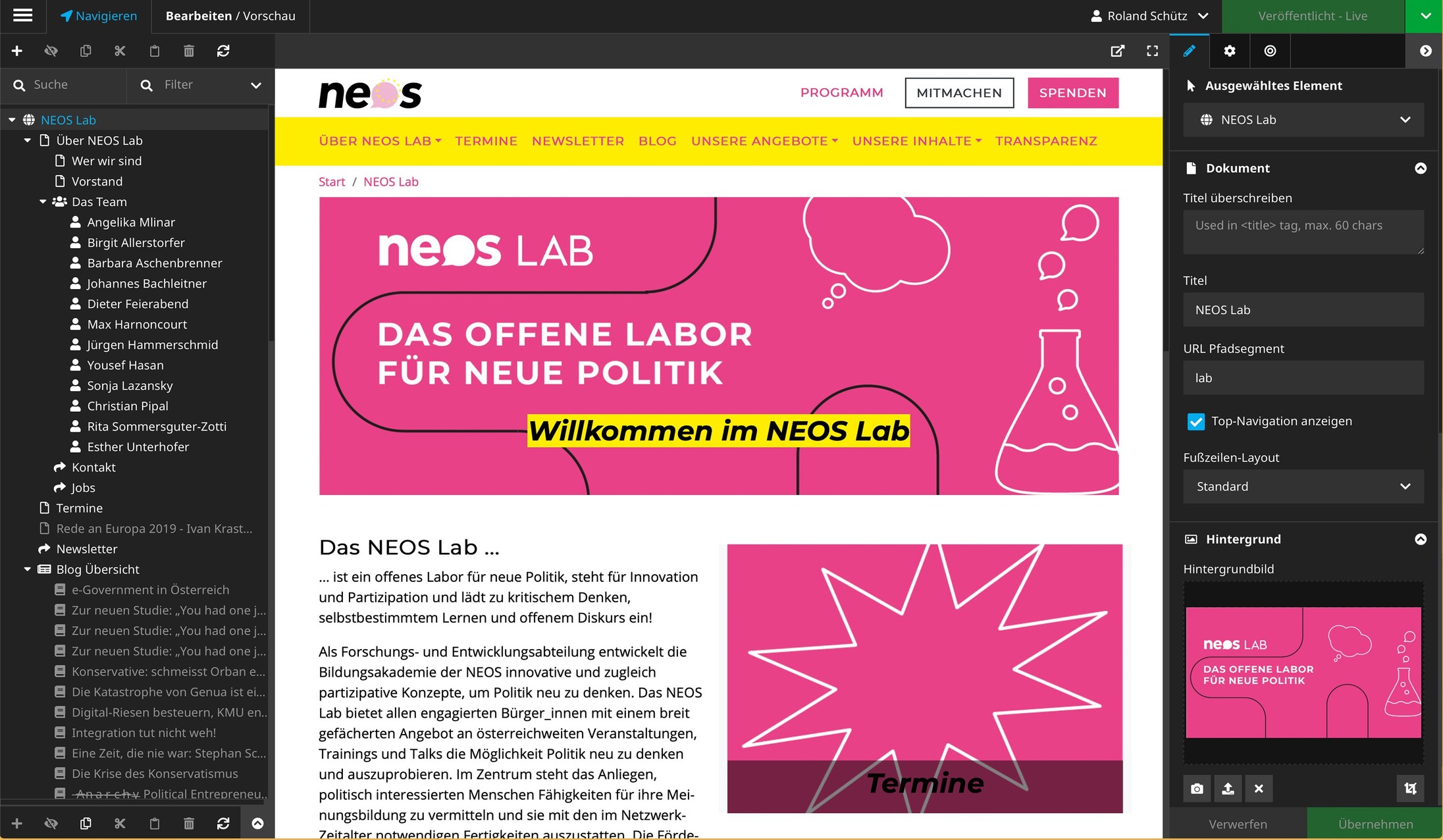 "Neos CMS has proven to be a modern and flexible platform, which best fits our needs. We achieved a unified design across all devices and environments for our multi-faceted and highly regionalized online presence. And the user-friendly editorial system is easy to understand for non-tech volunteers."
WE ARE AN EXPERIENCED DEVELOPER TEAM THAT HAS DEVELOPED WEBSITES, WEBAPPS AND ONLINE TOOLS FOR MORE THAN 10 YEARS.
We work transparently and help you from the conception till a successful project. We develop from the very beginning in such a way that your projects can be well maintained and easily extended for many years.

Most of our customers stay for many many years and so we start from the beginning to build efficient and honest relationships.